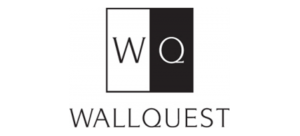 Although wallpaper was seen as out of style for a bit, it's coming back with a vengeance and bringing with it modern patterns, bold designs, and unique textures. We are proud to partner with Seabrook and Wallquest to provide an amazing selection of environmentally friendly, high quality wallpapers to our clients. We guarantee you will find the perfect pattern or style for every room of your home!
Seabrook has been in business since 1910 and is the largest independently owned wallpaper business in the country. They provide only the highest quality products and make sure to stay on top of new trends in style, color, and pattern. No matter what the look and feel of your home, Seabrook will have something you can fall in love with! They also have an environmentally friendly focus, so you can feel good about your choices.
WallQuest is the current incarnation of a business that has roots in 1820's France! They are family owned and operated today and have a huge selection to match any style of home, from traditional to the more fun and modern! They also focus on the environment, with their Eco Chic™ wallpapers. From modern floral patterns to geometric shapes, Wallquest offers something for everyone!
With the offerings of these two amazing companies, we know the walls of your home will be stunning and uniquely you! They will offer the perfect backdrop to build the rest of your room out from, and we can help you figure out exactly how to place it in your home for the maximum effect. To learn more about the different wallpaper options we have available, stop by Nest Furniture & Design today! We have a beautiful showroom conveniently located in Warsaw, IN, and we proudly serve the surrounding areas, including Syracuse, Fort Wayne, Columbia City, and South Bend, Indiana.